LET'S BUILD OUR TRAIL
JOIN US in transforming one of the country's great undiscovered greenways -- a 6.5 mile mixed use trail that links Xavier University through eight local neighborhoods and connects to the Little Miami Bike trail. Help us build a vibrant active community in Cincinnati.
GET INVOLVED BY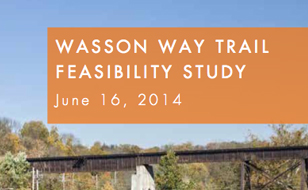 Feasibility Study
The Wasson Way takes another major step forward with the completion of a Feasibility Study by local engineering and design firm KZF Design. The study, funded by Interact for Health Foundation, shows that there are no significant barriers to construct the 6.5 mile trail on an idle railroad corridor.  The proposed trail will run from Xavier University to the Little Miami Bike Trail in Newtown, through the neighborhoods of Evanston, Norwood, Hyde Park, Oakley, Mt. Lookout, Fairfax and Mariemont.  The trail would connect over 100,000 people east of I75 to more than 100 miles of bike trails. The Feasibility Study confirmed that the construction costs were in line with original projections. Depending on the features added to the Wasson Way, the cost estimates to build the Trail are $7.5 – $11.2 million.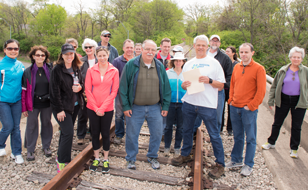 Walkin' the Wasson Way
We held "Try the Tracks" walk on May 3rd for interested community members to experience and envision the trail. The route we
nt from Busken's Bakery to Xavier University and back. Quite a few of the adjacent property owners joined the walk, fostering a productive discussion about the location of the Trail, resident privacy, parking area locations, and the tremendous benefits the trail will bring to the neighborhoods. Everyone was very surprised by the huge area of land in the Norwood Depot which will create a great opportunity for future plans."
UC Niehoff Event
In April, 120 students and professors from UC Engineering, DAAP, Real Estate and Geography presented the result of over 7,000 hours of classroom study at the UC Niehoff Studio. It was a fascinating look at both near and far-term projects for the Wasson Way: from dog parks, to access points, to community gardens, to development opportunities, to road crossings, to a future with light rail. The event featured an open reception attended by many from the community as well as a panel discussions by regional experts about the beneficial impact of the Wasson Way.