LET'S BUILD OUR TRAIL
JOIN US in transforming one of the country's great undiscovered greenways -- a 6.5 mile mixed use trail that links Xavier University through eight local neighborhoods and connects to the Little Miami Bike trail. Help us build a vibrant active community in Cincinnati.
GET INVOLVED BY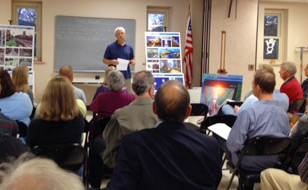 Upcoming Neighborhood Meetings
We will be holding a series of neighborhood meetings to get input on the design of the Wasson Way Trail.  We are seeking input on lighting, fencing, crossings, landscaping, parking, and any additional topics that residents would like to discuss.  The sessions are each designed to focus on a particular neighborhood, to enable a focused conversation about a specific part of the trail. We will provide a brief update about the status of the Wasson Way, explain various options for trail design, and give the attendees an opportunity to ask questions and provide their input.
The next meeting will be:
Date: 
Thursday, November 20
(located in Rookwood Commons Shopping Center)
Neighborhood Focus:
Kendall/Grovedale behind Withrow School
(Streets include Kendall, Grovedale, Downing, Marlington, Grigg)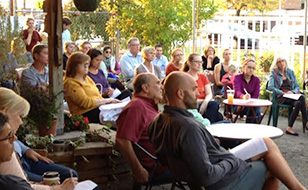 Community Meetings Have Strong Turnout
OThe Wasson Way organization has held two community meetings to gather input on the trail design from neighborhoods adjacent to the trail. The most recent event was held on Tuesday October 28th at the Oakley Recreation Center, with over 55 people attending. The first event was held at Hyde Park Floral and Garden Center on Wednesday Oct 1st, with more than 50 community members also in attendance. The sessions were targeted to East Hyde Park and Wasson Road neighborhoods, respectively, and an additional 3 neighborhood meetings targeting different neighborhoods will be held in upcoming months. Residents asked questions and discussed their views about parking, lighting, privacy, access points, and landscaping. All the ideas shared in person and in writing are being documented and analyzed. We are grateful for all of the members of the community who attended to contribute their voice, and we look forward to hearing more input at future sessions.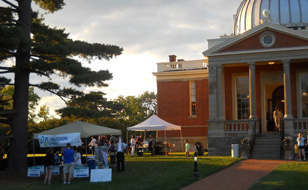 Mt. Lookout Observatory Event
As part of the recent kick-off event for the 100 year anniversary for the East Hyde Park neighborhood, the Wasson Way was invited to set-up a booth and tell residents about the Trail. The East Hyde Park group has some very dramatic plans for their area which incorporate the WW. We are also excited to be working with Mt. Lookout to connect their 6,000 residents to the Trail. It was stepping back in time 100 years to be talking about bikes, the old Observatory, seeing pictures of Hyde Park, East Hyde Park and Mt. Lookout when they were farm fields, and looking through the antique telescope at the rings around Saturn!